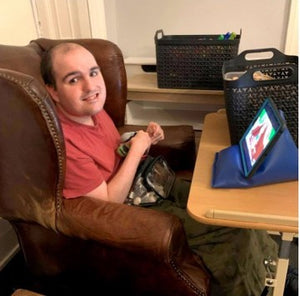 Bespoke Medical Vinyl (MV) Techbed Mini, Techbed & Techbed Maxi - contact us
Following our call to arms asking for sponsorship for MV Techbeds and Techbed Maxis on our Edge Beanbags facebook page for the Epilepsy Society Chalfont St.Peter and The Meath Epilepsy Charity Godalming at the beginning of February 2021, we have received a couple of further requests.
We have decided not to list the MV Techbed porfolio as open products but would simply ask you to contact us either by calling Paul's mobile 0777 627 5658, the landline 0118 374 9873 or dropping us an email at either paul@muscava.com or ps@edgebeanbags.co.uk for further details.
The reasoning behind this is that we do not hold made up stock, the MV Techbed portfolio is a bespoke product, we can provide colour options and also because we do not add our logo to the vinyl.
We hope that this is ok and if we can help, we will.
Keep smiling and stay safe.
Paul & Phil x